The Scrapbook Project
Posted on 1st September 2020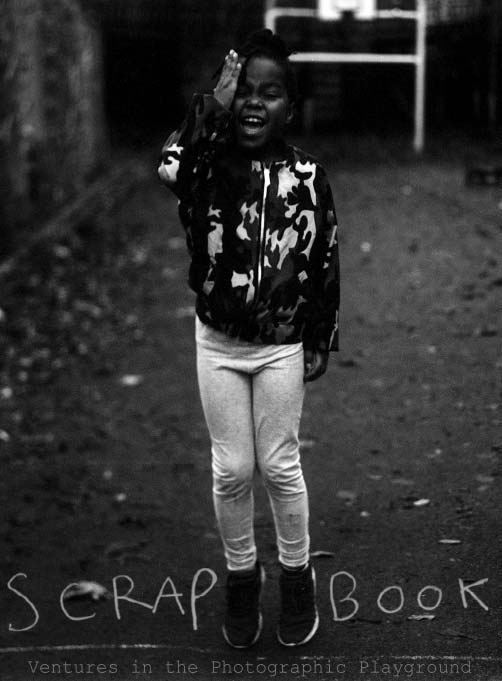 This September the black and white photography of Esther May Campbell and the children of St Pauls Adventure Playground will brighten up the corners of Bristol.
The Book
Books are priced at £20. All profits will go to the ongoing work at St Pauls Adventure Playground.
The Exhibition
SCRAPBOOK is a citywide photographic exhibition, and a stunning photo-book, constructed by Bristol based artist Esther May Campbell and many of the children who came to a weekly photo-club at St Pauls legendary Adventure Playground. Over a year the photo-club explored how play-spirit, craft and heaps of improvisation can evolve into an inspiration for living.
The wonderful photos and playful artwork produced by the club will be exhibited on poster boards all around Bristol, as well at the Playground itself, in an enlightening and inspiring immersive exhibition.
Emerging from the depths of collaboration, the SCRAPBOOK photographs capture the risks and joys of throwing oneself into play, discovery and imagination.
The show starts on Friday 4th September 2020 and runs until Sunday 6th September 2020 at St Pauls Adventure Playground. 4th: 3 – 7pm; 5th: 1 – 7pm; 6th: 1 – 5pm.
You will also be able to see a selection of images outside St Pauls Adventure Playground and around Bristol City Centre over the month of September.
SCRAPBOOK is a testament to the infinite qualities of mucking around, it is a portal into the telling world of child's play, upside/downing, risk, creation, kinship, destruction, art, and story as the world keeps on spinning.
Esther May Campbell

Love the gritty magical realism that captures life at the playground. It's full of character and attitude, like the playground itself. I love this book.
Gary Thomas, Playground Worker 1990s

Revealing inner city experiences of the next generation, SCRAPBOOK is cut and paste at its best from emerging St. Paul's talents.
Gary Thompson, Director Cables and Cameras